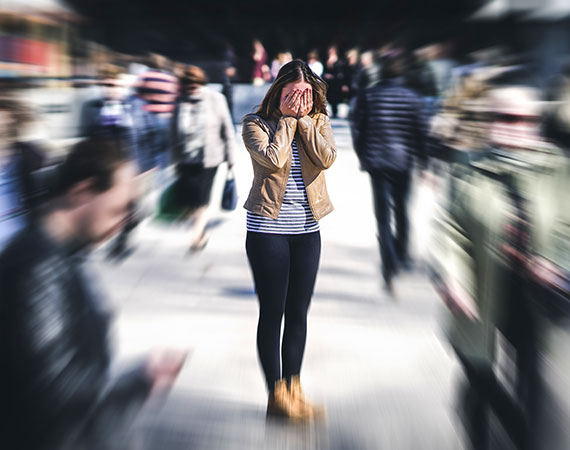 Overcome your social anxiety for good!
Let's face it, in a world we we interact with dozens of people on a daily basis, social anxiety is a real handicap – you just can't fit in.
Those feelings of awkwardness and embarrassment come on all of a sudden. Especially when you are around other people you don't know well.
It's like the whole world has their eyes on you and you want to be anywhere but here.
As you begin to talk, you overthink the situation. This only makes the nervousness worse. The more you judge yourself, the more you stammer, shake and come across as socially awkward – you become the very thing you tried to avoid.
You wonder if it's worth interacting with other people at all.
You'll know you have social anxiety if you find it hard to…
Meet new people
Talk to strangers
Join in group conversations with friends or family
Speak to your boss
Maintain eye contact
Be the center of attention
Eat or drink in public
Speak up to give your opinion
Use public toilets
Go to parties or crowded places
Catch public transport
Visit large shopping centers
Wait in line
Laugh at yourself when the jokes on you
Social anxiety is much more common than you think. 4.7 % of adult Australians experience social anxiety each year – That's over 1 million people.
Fortunately, social anxiety can be cured to the point where it will no-longer negatively impact your life.
One of the best ways to overcome anxiety is through counselling.
How counselling can treat social anxiety
While social anxiety may be common each person experiences it in a unique way.
No one else will experience social anxiety in the same way that you do. What triggers it, the feeling of overwhelm and how it impacts your life – these are all specific to you.
That's why we will work with you to create a custom program to beat your social anxiety – a holistic solution that addresses your individual needs.
It all starts with reflective discussion. Here you'll gain complete insight into what is causing your social anxiety and how it is getting the better of you.
From here, we will address each area of your life that is causing your social anxiety by building a program just for you, to create lasting change.
Most importantly, you will be given customised coping strategies. These can be used to overcome your social anxiety in group settings while you are working towards your goal of beating it for good.
With an achievable plan designed just for you, overcoming social anxiety has never been easier.
Need help?
Book your free,
no obligation
phone consultation now!