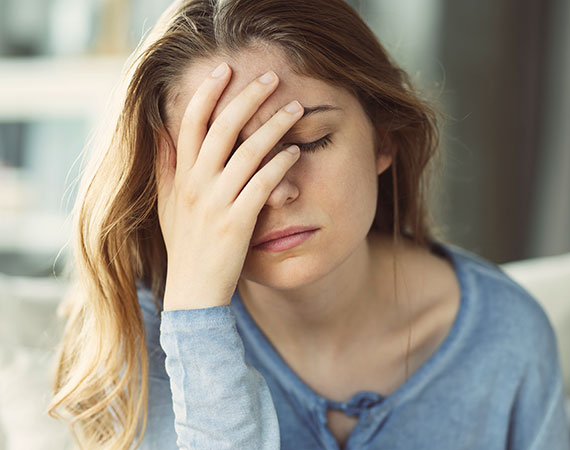 Beat depression once and for all
Depression is exhausting. That feeling of hopelessness constantly pulling you down The more you struggle, the worse it gets.
Then there's the self-loathing, it's impossible to look on the bright side when everything feels hopeless – happiness seems unreachable.
Depression is a productivity killer. Even simple tasks are impossible to accomplish when depression strikes. You just can't focus.
Coping on your own is hard… but you don't even want to be around the people who love you.
You'll know you have depression if you suffer from:
Overwhelming feelings of hopelessness and self-doubt
irritability and foul moods
Negative thoughts and feelings of despair
Feeling unmotivated and difficulty concentrating
Loss of energy, feeling lethargic
Loss of empathy towards others, becoming self-absorbed
A desire to be left alone
Poor appetite
You are not alone. Around 6% of adult Australians are affected by depression each year.
Fortunately, the effects of depression can be eased to the point where it no longer controls your life.
One of the quickest ways to overcome depression is through counselling
How counselling can treat depression
While depression may be commonly experienced by many Australians, each person experiences it in a unique way.
What triggers it, the feelings of overwhelm and how it impacts your life – these are all specific to you.
This is why we create a custom program for treating depression. You will receive a holistic solution that addresses your individual needs.
It all starts with reflective discussion. Here you will get complete insight into what is causing your depression and how it is getting the better of you.
From here, we will address each area of your life that is contributing to your depression by building a program just for you – to create lasting change.
Most importantly, you will be given customised coping strategies. These can be used to overcome your depressive slumps as you work towards your goal of beating depression for good.
With an achievable plan designed just for you, overcoming depression
has never been easier.
You can overcome depression and live the life you want.
Want to feel better?
Book your free,
no obligation
phone consultation now!