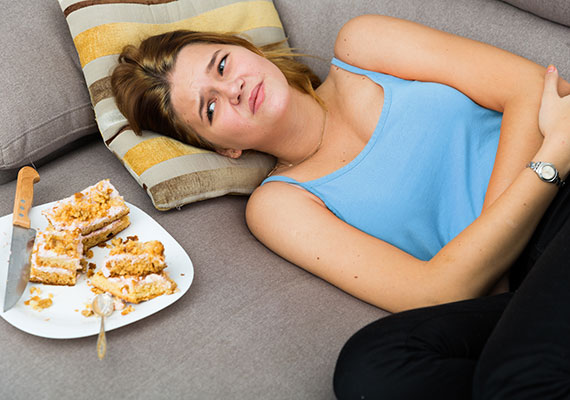 Overcome your binge eating for good!
It feels like your dirty little secret:
Binge eating.
Alternating between periods of "being good" and losing control, only to find yourself demolishing a family sized bucket of ice cream or a whole loaf of bread.
And then it hits you…
If not the stomach pains then the overwhelming sense of guilt. You feel distressed and disgusted in yourself – you've let yourself down, again.
Unfortunately, it doesn't end there.
In the days that follow you'll try to stick to a diet, convincing yourself that you'll never binge again.
How well does that work for you? Sooner or later, you are going to give in. And when this happens, you get to experience this self-punishment all over again.
Let's face it, you have been here before. Binge eating is an ongoing battle, one that you feel like you can never win.
While there are plenty of advertised solutions to binge eating, these don't work…
1. Dieting
Limiting food intake for the purpose of weight control sounds good in theory. However, it relies on control.
Think back to the last time you had a binge eating session. Were you in control of your actions?
Funnily enough, diets often have the opposite effect. They can cause you to become fearful of eating…
Breaking the diet makes you punish yourself harder, which causes self-esteem levels to drop even lower again. This in turn leads to another binge.
2. Gastric Band Surgery
Sounds great, right? This expensive surgery promises to make you feel fuller with less food. But binge eating isn't about feeling full – if you could stop eating when you are full, you wouldn't need help.
As an example, one of the clients I successfully treated had this exact surgery. It didn't stop her binge eating. She just got more creative in how she binge ate. She would blend Tim Tams in water, and drink them.
3. Medications
A pill that promises to cure binge eating? Sounds to good to be true, right? Turns out it is.
Doctors are often hesitant to recommend pills for binge eating since they come with many side effects that need to be monitored, and do not cure the actual cause of binge eating.
Many of my clients have tried medications and found that they did not help with their binge eating.
You need help
You see, binge eating is more than just a food or weight problem.
So, what is the cause you need to fix?
Here's a hint:
You feel like you are on an emotional and mental rollercoaster…
Yep, you got it. Binge eating is largely a psychological issue.
As a result, binge eating cannot be beaten by diet, surgery or effort alone – You are in a battle with your brain and won't win.
What you need is to transform your thinking.
Understanding and modifying your attitudes and thoughts around food are essential to overcoming binge eating.
After all, If you don't change your thinking patterns and address your emotional issues, you'll stay stuck in a binge eating loop.
You need counselling.
That's where I come in.
Hi, I'm Hazel, and I help my clients overcome the mental hurdles surrounding binge eating.
I have worked with hundreds of clients to successfully cure them of binge eating.
By working together, I can help you can overcome binge eating once and for all.
How does counselling help?
Drawing on my expertise, I have developed methods that will get to the core issue of your binge eating and help you regain control of your life.
It all starts with a personalised approach.
Your binge eating is unique to you.
The trigger, the foods you eat, the emotional distress, your lifestyle and past experiences…
No two people experience binge eating in quite the same way. Or binge eat for the same reasons.
So, the first step is to talk about you, your feelings and experiences around food.
You are free to talk about your secret shame and suffering, in a cozy, judgement-free environment – With an expert that gets you.
Through reflective discussion, you'll get complete insight into how your binge eating is getting the better of you – and how to address it!
From here, we will analyse the areas of your life that are triggering your binges and I will design an individual program to create lasting change.
Most importantly, you will be given customised strategies and education to help stop you from falling back into the binge eating cycle.
With an achievable plan designed just for you, overcoming binge eating has never been easier.
Let's work together to beat your binge eating habit once and for all.
Ready to say goodbye to binge eating?
Book your free, no obligation phone consultation now!