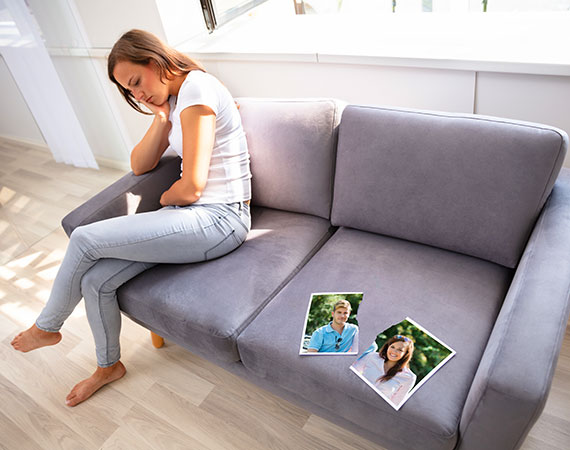 Deal with a troublesome breakup/divorce
 
A breakup is never easy. 
 
It doesn't matter if you have been dating for a year or married for over 30 – breakups are painful.
 
One day your life is normal, the next your world is turned upside down. Everything has suddenly changed.
 
The pain and confusion of a relationship break up can be similar to the loss of a loved one through death.
That significant person in your life, who you thought would always be there is gone. You now have to cope alone.
 
Coping on your own is hard…
 
In the weeks that follow your breakup, you'll suffer from:
 
Thinking about the other person non-stop

Incredible loneliness

Sleepless nights

Emotional distress

Inability to concentrate on other tasks

Feelings of physical heartache

Loss of motivation

Not wanting to get out of bed

Possible loss of appetite

Fortunately, the pain of a breakup can be eased to the point where it no longer negatively impacts your life.
 
One of the quickest ways to heal from a breakup is through counselling.
 
How counselling can mend a broken heart
 
While break ups are common, what happened and how you feel is unique to you. So, the first step is to examine the story of your relationship, the break up and it's lasting effects.
 
Healing starts with a true understanding of what your relationship meant to you and why it broke down. Through reflective discussion you'll get a clearer picture of your grieving process.
From here, we can apply pscyo-education to help move this process forward and lessen the pain you feel.
 
Most importantly, you will be given rationalisation strategies and exercises that can be used to overcome the daily slumps – for instance, falling asleep at night.
 
During this process, we will work together to create achievable goals to help your life back on track. This plan is unique to you and focuses on your strengths and interests in order to move you forward to a place of happiness.
 
This is just a temporary slump that you can overcome. 
Want to feel better?
Book your free,
no obligation
phone consultation now!